Men in Blue haven't beaten Kiwis in a
World Cup
in any format since 2003
DHARAMSHALA: Of all the World Cup contenders, New Zealand are the only team to have perfectly mastered the art of the cloak-and-dagger operation.
The Kiwis don't look it, of course, but that's the point. They are the nice guys who can be threatening. Perhaps you wouldn't even mind a defeat to them. Their grandest performances can go under the radar, not by chance but by design, putting the onus of failure on the opposition.
IND vs NZ: Team India will defeat New Zealand with collective efforts, predicts scientific astrologer Greenstone Lobo
The New Zealand we know is a mask. It explains a lot of things, including how India's rabid cricket fan isn't really bothered by the fact that his team last won against the Kiwis in an ICC World Cup – in any format – back in 2003. An Indian victory against New Zealand in a World Cup, after all, is always just around the corner. For two decades now.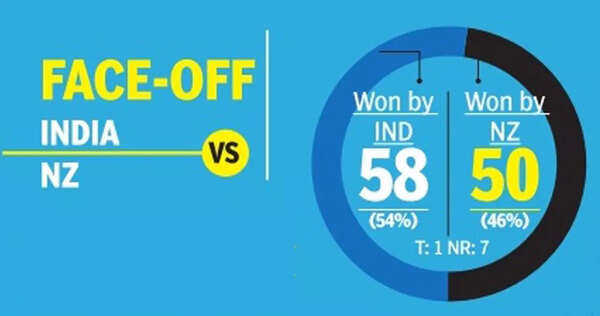 Even New Zealand's spinners aren't the nightmare-inducing kind. They amble in without the accompanied 'oohing' and 'aahing' that others of their ilk generate, until you realize they have silently shaped a World Cup campaign. No wonder the sneaky Mitchell Santner is the highest wicket-taker in this World Cup.
Which brings us to this charming cricket ground nestled in the shadows of the Dhauladhar range, with its tricky pitch and average outfield. There's a sharp nip in the air, the likelihood of dew, the prospect of generous swing and some strikingly short square boundaries. Four out of the seven ODIs here have been won by the chasing side, which has also won the toss each time.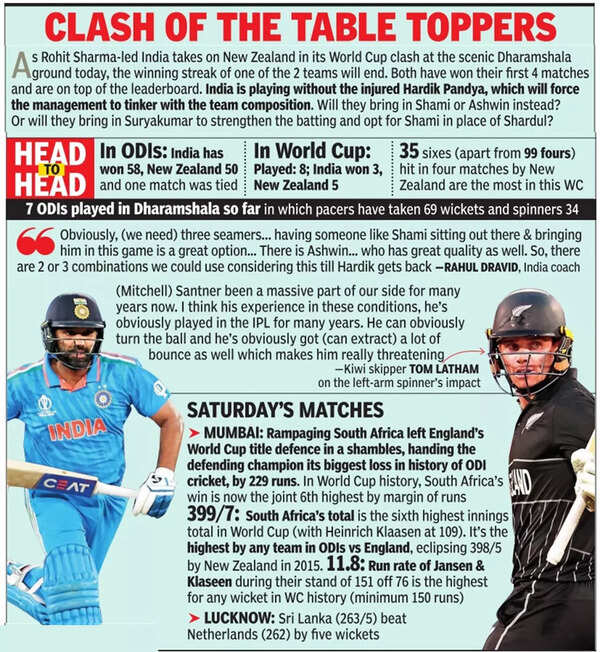 Then again, this is India vs New Zealand, the only unbeaten teams in this World Cup, and nothing that has happened on this ground so far may explain what will transpire on Sunday. These two teams are unburdened by the script.
Adaptability is their forte, a quality best suited to the diverse conditions on offer in this event. "Being adaptable is probably one of the most important things," New Zealand's skipper Tom Latham said, "Adaptability, (but) also sticking to our plan as best as you can."
"We will have to be at our absolute best," said India coach Rahul Dravid. "They are well balanced. They play in India a lot. They come on 'A' tours to India a lot. A lot of their players have played in the IPL. They're very used to these conditions."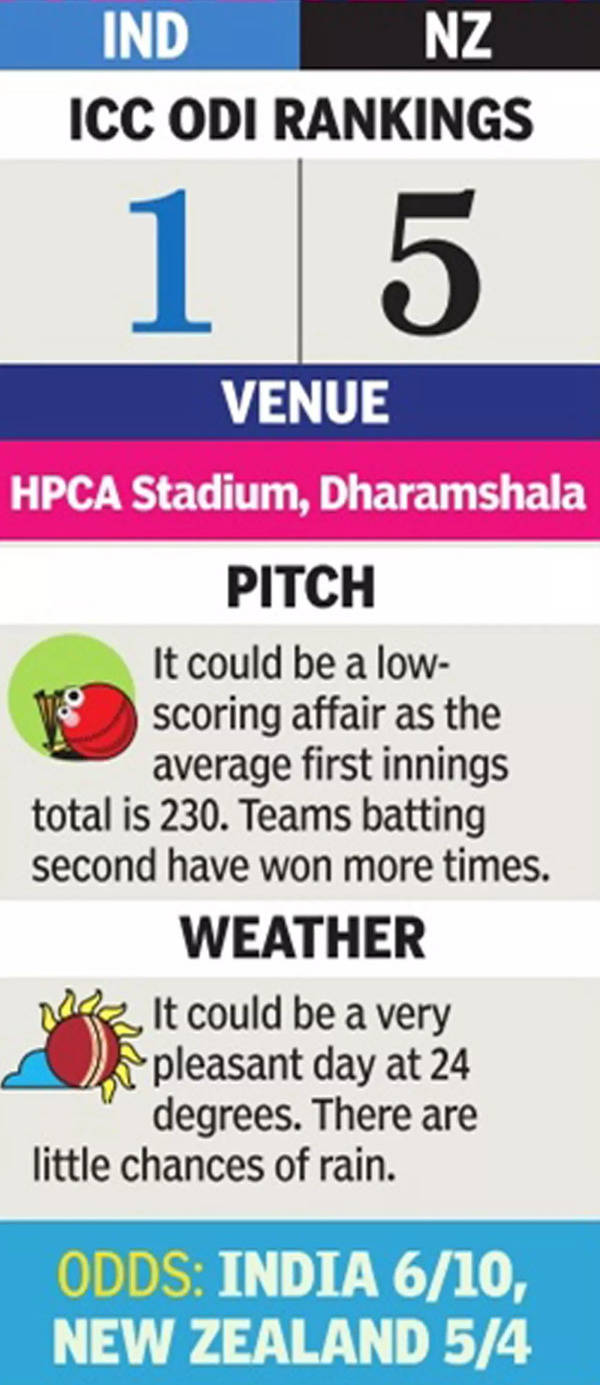 Interestingly, India have had some smoke and mirrors of their own. Their captain Rohit Sharma has used his astute decision-making abilities and some clever planning to successfully thrust and parry rival advances.
His captaincy has given the team an edge in areas they have been lacking in, like putting the squeeze on rival batters in the second Powerplay – between overs 11-40 – and using spinners Kuldeep Yadav and Ravindra Jadeja to stifle the opposition.
Rohit has also used the cushion of an extra batter to go hard in the first few overs, allowing the middle-order to breathe easy. This has made the team formidable in a run chase.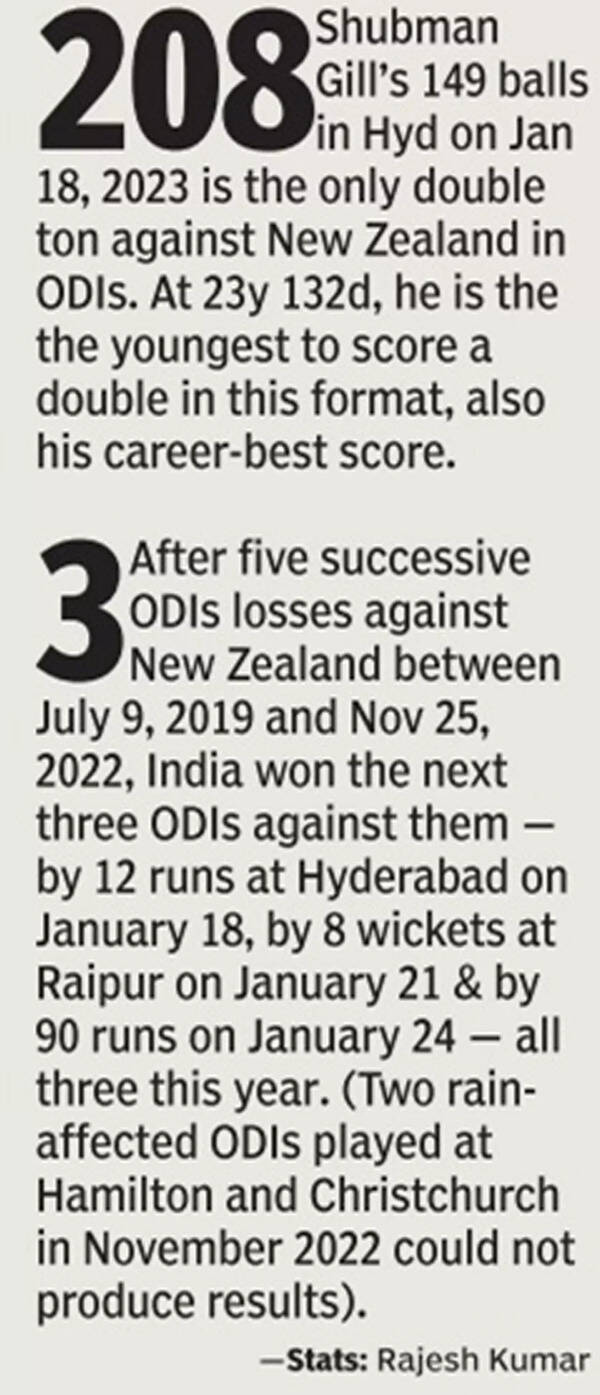 India have even used the injury enforced absence of Hardik Pandya to create some confusion, using the diverse replacement options available at their disposal as a strategic crutch – for sure, the Kiwis would like to know if it's Suryakumar Yadav or Ishan Kishan who gets in, for plans will have to be changed accordingly.
"Rohit's done a great job of handling the spinners really well and working out the right ends, (with) some really good field placings as well," said Dravid.
Kane Williamson's stand-in Latham hasn't been too unimpressive himself, using a similar policy in the middle overs with his main pace weapons Trent Boult and Matt Henry. He has shown the same daring approach to decision-making that Rohit brings to the table.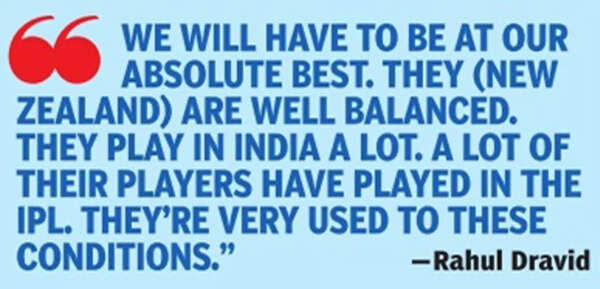 This may turn into a battle of the two captains, then, although expect the pacers to play a more upfront role in Dharamshala. In the WC games here, pacers have taken 33 of the 50 wickets to fall. For New Zealand, Trent Boult is key. Lockie Ferguson is indispensable. Tim Southee is also available for selection.
India have Bumrah's searing cocktail of pace and swing and Siraj's cross-seamers as an essential combo. Do they dare bring Shami in for Shardul?
"There's many factors that lead into a game," Latham said, "If we're able to absorb pressure and put it back on the Indian team, that's going to be important. It comes down to communication within the team and whether what they say is the right thing to do at the right time."