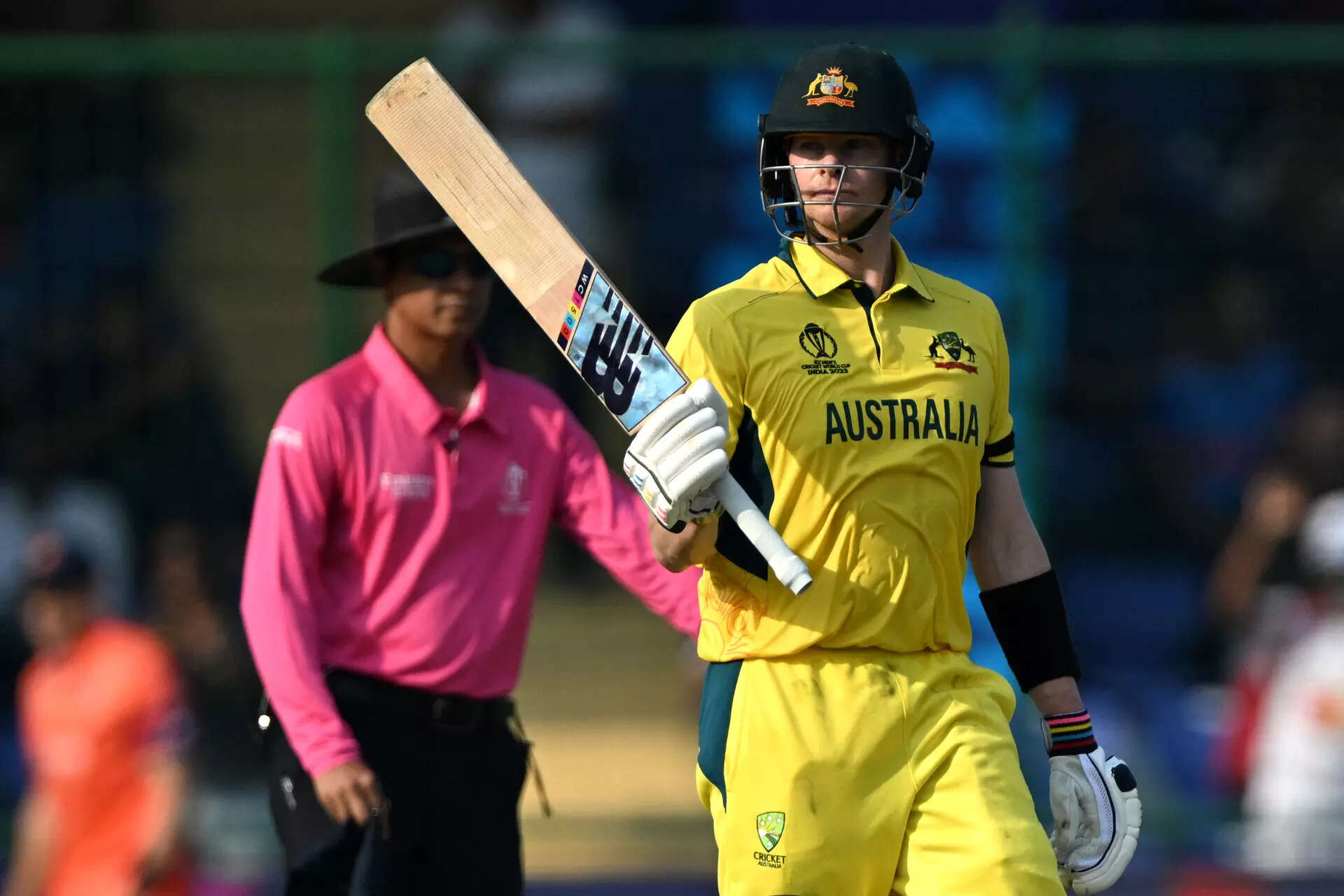 NEW DELHI: After a triumphant performance against the Netherlands, Steve Smith, the veteran Australian cricketer, attributed his return to form in the ongoing World Cup to some key technical adjustments. On Wednesday, the 34-year-old displayed his revamped technique as he blazed his way to a robust 68-ball 71, comprising nine boundaries and a maximum. Smith's partnership with David Warner (104) of 132 runs laid the groundwork for Australia's formidable total of 399/8.
Smith revealed that he had worked on a "couple of things" during net sessions on Tuesday.
"I moved back to the leg stump a little bit. I got my hands a little bit higher than what they've been for the last week. For some reason, they've dropped down a bit. I just felt it in the nets yesterday and everything sort of clicked back into place again," he explained after Australia's resounding 309-run victory over the Netherlands.
Reflecting on his recent form, Smith noted, "I felt like I was batting well a couple of weeks back against India. I thought I was actually getting back through the ball nicely on a pretty tough surface and playing well, and then for a week kind of lost it for a bit." His initial performance in the tournament included a commendable 46 against India but was followed by scores of 19, 0, and 7 in the subsequent three matches.
Smith elaborated on his challenges, mentioning, "I got a couple of nice balls, I suppose the one that swung back and got me out, and (Kagiso) Rabada's, which was a little questionable. I felt like I've been batting really well. I just needed to get the feel again."
The adjustments appeared to work as Smith's form resurfaced with a smile, "batting yesterday at the nets straight away I had a smile on my face at the back end. I felt good and took that into today and felt nice. I thought I was getting good positions today and yeah, hopefully that continues."
Smith appeared well on track to reach a century before being dismissed at 71 off 68 deliveries when Roelof van der Merwe took a sharp catch at backward point. When asked about missing out on the hundred, he commented, "Yeah, it (hundred) would have been nice. I felt I was batting well. It was a nice partnership obviously with David and we were able to set it up for the guys to have a smack at the back end and get us up near 400 so."
Regarding the ongoing World Cup competition, Smith recognized that India and South Africa are leading the points table, stating, "I think both of those sides are playing really good cricket. South Africa's batting is structured similarly to what we did in this sort of game. They trust their top five batters to build a platform and then rely on players like Klassen and Miller to finish strong."
He added, "India is playing at home, and they're a good side. They're obviously the favourites at the moment. They're playing really well, and they're a good side."
AUS vs NED, ICC World Cup 2023: Glenn Maxwell smashed fastest hundred in ODI World Cup
Reflecting on Glenn Maxwell's remarkable feat of scoring the fastest ODI World Cup century in just 40 balls, Smith was in awe, commenting, "Incredible, wasn't it? Some seriously good shots there… It was a pretty incredible effort."
The 2023 World Cup has been marked by high-scoring games, including six 350-plus totals, largely led by South Africa. Smith noted that the scoring was wicket-dependent, emphasising the importance of assessing conditions to determine feasible run targets.
Australia's next challenge in the tournament will be against New Zealand on October 28, as they aim to maintain their strong form and build on their impressive victory over the Netherlands.
(With inputs from PTI)