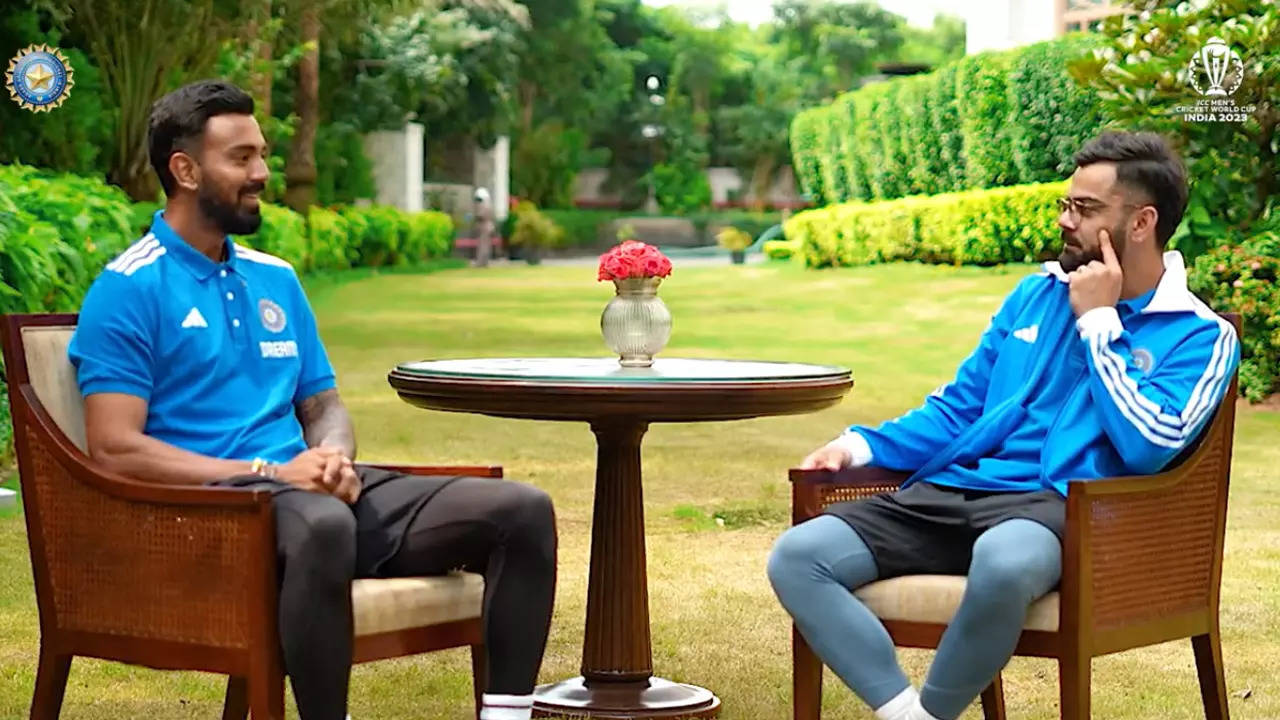 NEW DELHI: After three batters were dismissed for ducks with only two runs on the board, Virat Kohli and KL Rahul pulled off an incredible heist by forging a match-winning 165-run partnership in India's opening World Cup match against Australia in Chennai on Sunday.
Kohli (85) and Rahul (97*) steered India to a six-wicket victory in the modest target of 200.
Former India skipper Kohli and Rahul sat together for a freewheeling chat, a video of which was shared by BCCI on their X handle.
Kohli initially assumed the role of an interviewer and asked Rahul about the match-winning knock he played.
"Talking about the special partnership that I and KL had, we had one in the Asia Cup as well but this was a bit more special. How does it feel, how is the body feeling firstly," Kohli asked.
"Tired", pat came the reply from Rahul.
The wicket-keeper batter also revealed the chat they both had during the stand and how they conserved energy in a bid to bat till the end.
IND VS AUS World Cup Thriller: Kohli-Rahul's record 4th wicket partnership powers India to 6 wicket victory
"I won't lie, you know how it was the only chat after I think 50 or 70 runs of partnership was let's conserve energy. Let's not run the twos but once you hit it in the gap then I guess instincts take over and we end up running. It was a tough day but it could get our World Cup journey started with a good victory," Rahul said.
Kohli seemingly unhappy with India's start and told Rahul it was quite bizarre and asked him what was going through his mind when he was stepping in to bat
"I know the situation was not ideal when you came in, you were all over the places you were still padding up while walking in. The first thing I told you was that it was a quick turnaround. It was quite bizarre to be honest the start was quite bizarre. What was your feeling when you were walking in?" Kohli said.
"I never expected it, you do lose a couple of quick wickets sometimes when the ball is doing something but not like that it still takes 4-5 overs. It doesn't all happen in 1.5 overs or 2 overs time. I just came and sat, I just had a shower, the minute I sat down Ishan got out. I had to rush back to get taped and started wearing my pad," Rahul replied.
Rahul then threw a question to Kohli asking about his homecoming as India's next World Cup match against Afghanistan will be played in Delhi on Wednesday.
"It's a homecoming for you, we are going to Delhi, I'm sure it's a very special feeling for you, you have grown up there and now you have a billion named after you so what's the feeling that you are going through?" Rahul said
"The memories are always fresh in your mind when you go back into those moments, you can still feel it because that is where everything started, that is where the selectors for the first time and you got an opportunity. So it's always special to go back and play at the Arun Jaitley Stadium now.
It's a bit awkward for me, playing in front of the pavilion named after me. Honestly I don't like to talk about it a lot because it is a very awkward feeling but I just feel very grateful when I go back and see all the things that are present now and from where I started," Kohli stated.