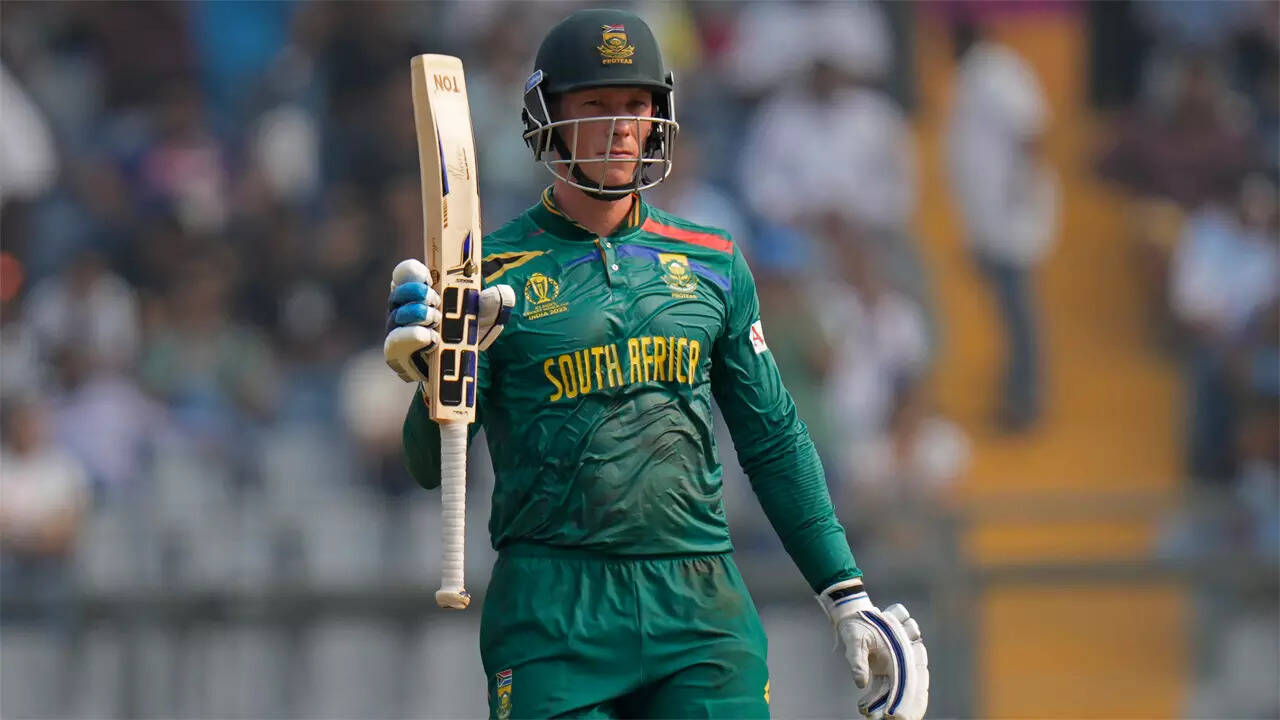 NEW DELHI: Rassie van der Dussen is steadfast in asserting that South Africa is not burdened by any Cricket World Cup baggage, even if their loyal fans may at times feel like they are "watching a movie they've seen before".
South Africa's World Cup history has been marked by a lack of victories, despite the presence of cricketing legends such as Allan Donald, Jonty Rhodes, Herschelle Gibbs, Lance Klusener, and AB de Villiers.Since their inclusion in the event in 1992 after apartheid, they have yet to claim the World Cup title.
South Africa has, on occasion, been the architects of their own misfortune, with instances such as the heart-wrenching tied semi-final against Australia in 1999, the misinterpretation of rain-affected run-rate regulations in 2003, and a nail-biting loss to New Zealand in the semi-finals in 2015.
These departures from the tournament have led to allegations of "choking," and after a surprising loss to the Netherlands earlier in the current edition, critics once again questioned their mental resilience.
However, South Africa's sole defeat in this World Cup has been the loss to the Netherlands. In their six World Cup matches in India, the Proteas have managed to keep their composure, narrowly defeating Pakistan by just one wicket in their most recent outing.
They next face New Zealand, who've won five straight World Cup matches against the Proteas since 1999, in Pune on Wednesday.
Van der Dussen, asked during a pre-match press conference in Pune on Tuesday if South Africa were indeed carrying any "baggage", replied: "No, I suppose it's about just acknowledging and accepting it.
"After that Dutch game, we took a lot of flak from back home and certainly in the media as well. There's no use in delving too much into it. You've just got to accept it and move on."
The 34-year-old batsman added: "You realise that there's people at home and fans that have been really scarred by the previous performances of South Africa at World Cups.
"You can't really criticise them for feeling that way, for the criticism to come from, I suppose, a place of hurt where they've seen that movie before."
Even so, he insisted: "But personally, and I think it goes for probably most of the people in our squad and management team, that we haven't lived that.
"So, it's not really applicable to us."
Coming up to date, he said the Pakistan match was a positive as "we didn't play our best cricket at all, especially from a batting sense, and we still managed to get a win".
Wednesday's match takes place just days after South Africa's Springboks defeated their arch-rivals, New Zealand's All Blacks 12-11 to win a tense Rugby World Cup final in Paris.
Victory gave the Springboks, who won all three of their knockout matches by just a one-point margin, a fourth World Cup title.
"We take massive inspiration from them," said Van der Dussen.
"We know a lot of those players personally as well…And I think the real realisation for us is that we're no different.
"We haven't won World Cups, but if we do manage to get there at some time, it will be really an honour for us to be mentioned in the same sentence as those guys."
(With AFP Inputs)