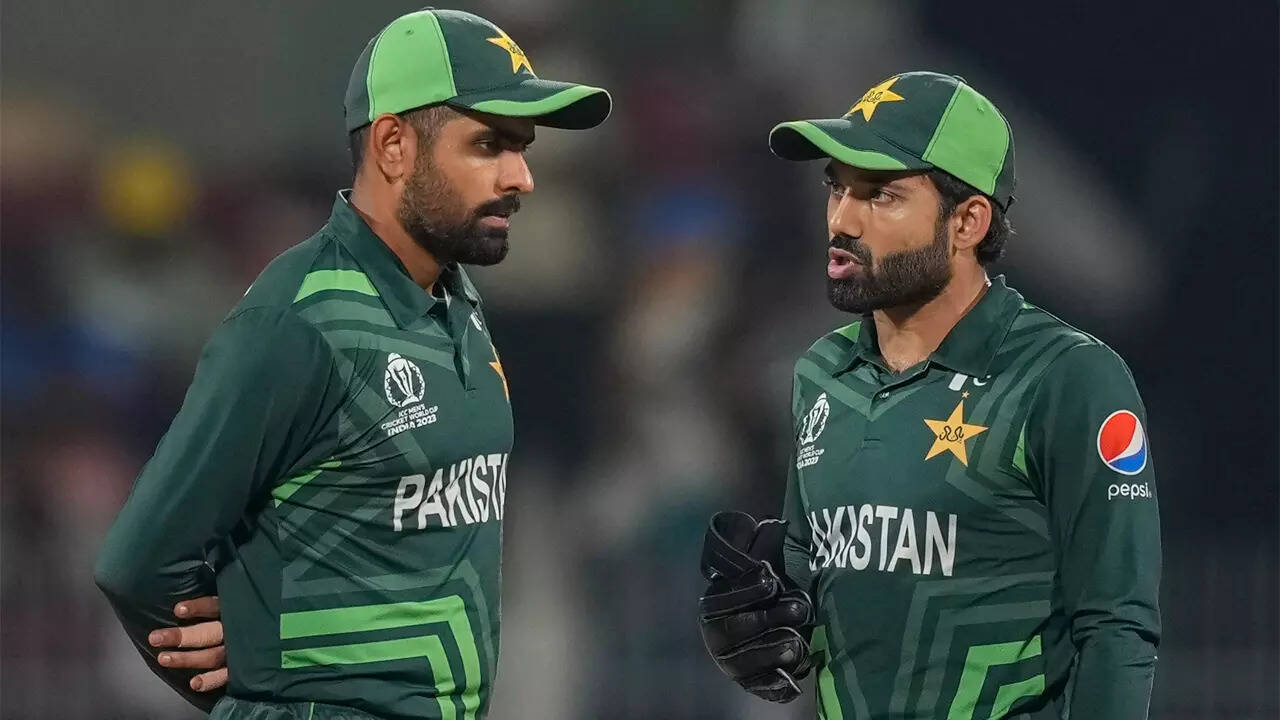 NEW DELHI: Sarfaraz Ahmed, Mohammad Rizwan, and Shaheen Shah Afridi are emerging as potential contenders for the captaincy role upon the national team's return from the World Cup in India.
Following the World Cup, Pakistan is slated to embark on a tour of Australia. Additionally, preparations are essential for the 2024 T20 World Cup and the 2025 ICC Champions Trophy.
A growing consensus within the Pakistan Cricket Board suggests that Babar Azam has had his opportunity to prove his captaincy mettle and has fallen short in delivering the expected results.
Despite their recent setbacks, including a defeat to Afghanistan on Monday, Pakistan still has four more league games remaining in the World Cup, providing them with an opportunity to secure a spot in the semifinals.
"Only if Pakistan can stage a miracle and win all their remaining matches to qualify for the semi-finals of this World Cup does Babar stand any chance of surviving as captain and even then he might be relegated to skipper in just the red ball format," one reliable source close to the developments said.
The source said that the knives were out for Babar and he might as well announce his resignation as captain if the team returns home without playing in the World Cup semifinals.
AFG vs PAK: Afghanistan top order scripts memorable win against Pakistan| ICC World Cup 2023
"It is over for Babar because he has been given unbridled power and authority as captain and more importantly he has always had players of his choice in the team.
"There has never been any attempt to reduce his authority and so he is now being held solely responsible for the Asia Cup and World Cup defeats," the source added.
He noted that even for the Asia Cup and World Cup, despite advice from former captains Misbah-ul-Haq and Mohammad Hafeez to make some changes for the event in India, Babar had got all the 18 players he asked for and chief selector, Inzamam-ul-Haq had also supported him completely.
"The PCB Chairman, Zaka Ashraf ignored the advice of Misbah and Hafeez and some other former players whom he consulted as Babar was adamant he didn't want changes in the team for the World Cup," the source said.
Misbah also confirmed on a television channel that he had advised Babar to include mystery spinner Abrar Ahmed in the World Cup but Babar refused and only agreed to take him as a travelling reserve to India.
The interesting part is that lobbies for the possible candidates including Sarfaraz, Shaheen, Rizwan and Shan Masood have started their work to get their candidate selected as captain with the board now likely to name different captains for the red and white ball formats.
"Sarfaraz might win the nod to captain the Test and ODI sides again while Shaheen may get a chance to be the T20 captain," the source added. Sarfaraz is currently not part of the World Cup squad.
The source also disclosed that the support staff of Mickey Arthur, Grant Bradburn, Mornie Merkel, Andrew Puttick and manager Rehan ul Haq are also under the scanner and will be asked to step down after the World Cup.
"They are very bright chances that Pakistan will have a new coaching staff and captain when they embark on the Test tour of Australia and for the white ball series in New Zealand after the WC," the source said.
The source said that the board was also not happy with reports leaking out of some differences and disputes in the dressing room, something that PCB rubbished on Monday.
Babar was initially named T20 captain in late 2019 but by 2021 he had taken over captaincy of all three formats.
(With PTI Inputs)