KOLKATA: The City of Joy is at its illuminating best at this time of the year. A man with his trademark buck-toothed grin and feet expressive of samba magic has come all the way from Brazil to sprinkle more glitter on the festive season.
From visiting an academy named after him to calling on the chief minister to breaking into an impromptu jig while inaugurating a Durga Puja pandal — Ronaldinho had a ball during his maiden tryst with the city, known for its love for football.
It was a stage Ronaldinho lapped up in his inimitable style. Armed with the famous hand gesture he used to make after scoring, and the smile and an innocent look, the legendary Brazilian footballer enthralled the fans throughout the day.
Brazilian football legend Ronaldinho enjoys dancing at Sree Bhumi Sporting Club in Kolkata
Chaos and commotion often followed him in his wake, though. Take for example his visit to the Merlin Rise, a sports city in Rajarhat which houses the R10 Academy. His arrival was delayed by more than two hours there and he was whisked away in no time by the team that brought him here, leaving everyone insatiable and many programmes unfulfilled.
Ronaldinho's presence at the inauguration of the Ahiritola Jubak Brinda pandal almost resulted in a stampede-like situation and he refused to get out of the car.
However, like the proverbial pied-piper, he made a moving crowd of the city — already in a pandal-hopping mood — stop and follow him. As the air reverberated with the chants of 'Ronaldinho' Ronaldinho' and 'Brazil, Brazil', many heads leaned out of windows in moving buses and cars to catch the craze.
Ronaldinho meets West Bengal CM Mamata Banerjee
His much-anticipated meeting with CM Mamata Banerjee at her Kalighat residence lasted for about half an hour. The CM greeted him with an uttoriyo and football. Casually dressed in a loosely-fitted navy blue T-shirt and topping it with his signature snapback cap, the Brazilian gifted her with a Selecao jersey. Representatives of the city's three big clubs — East Bengal, Mohun Bagan and Mohammedan Sporting — were present on the occasion.
Later in the evening, East Bengal FC's Spanish coach had a 'blast' with the Brazilian at a private function.
However, the whole range of football emotions which still go by the name of Ronaldinho even after his official retirement in 2018, was in full display during his time at the Sreebhumi Sporting Club, a major attraction for pandal-hoppers in the recent past.
Spurred on by state fire and emergency services minister Sujit Bose, who also is the man behind this pandal, Ronaldinho entertained the crowd with some glimpses of his football skills before joining a group of girls in a dancing programme. He also garlanded a Diego Maradona statue there.
Meanwhile, Merlin Group MD Saket Mohta said that 10 under-14 female footballers would be given scholarships and financial assistance in collaboration with Ronaldinho's academy here.
"A swimming complex to be named after Michael Phelps and an MMA Matrix training centre are also in the pipeline in our sports city," Mohta revealed.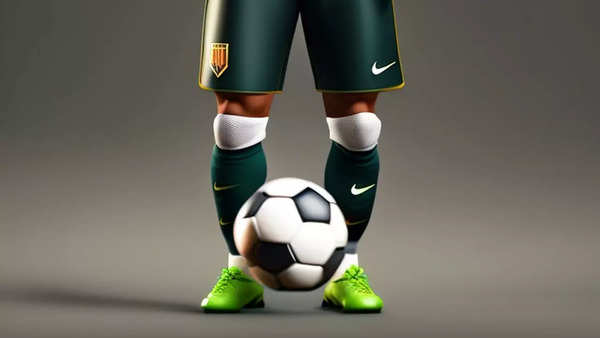 (AI image)