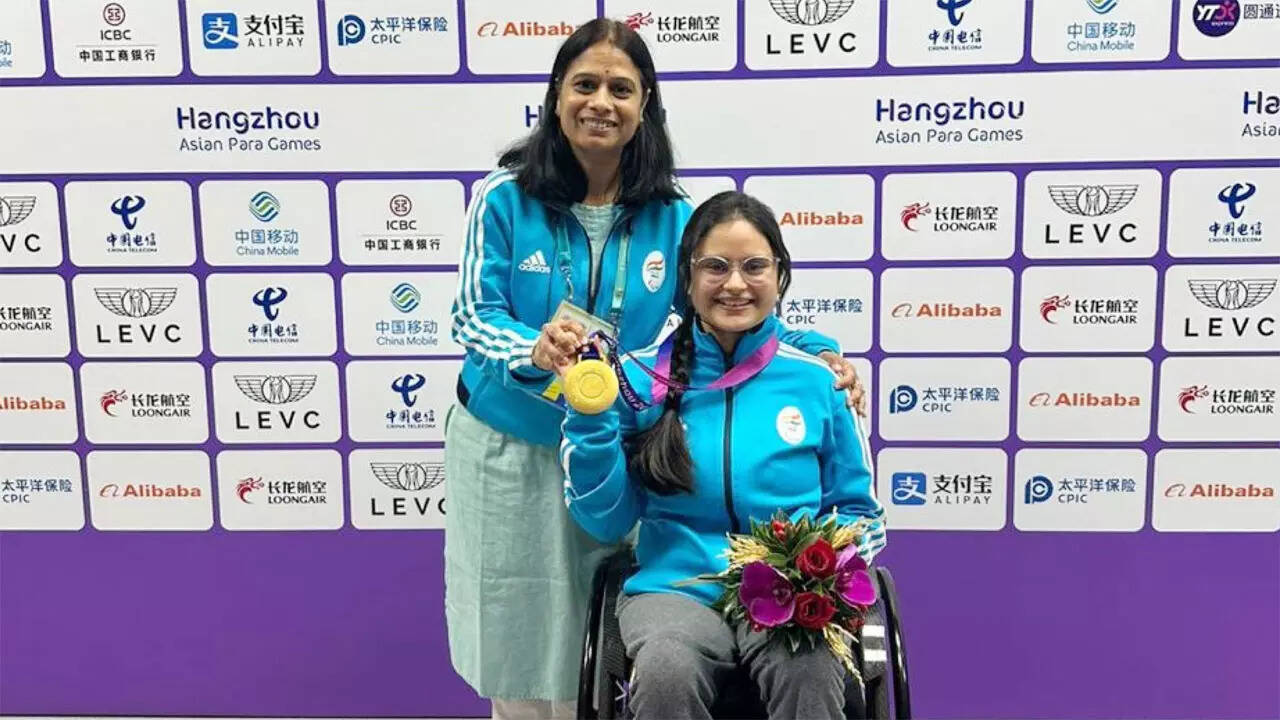 NEW DELHI: India had a remarkable start to the Asian Para Games in Hangzhou, securing a total of 17 medals on the opening day. This impressive haul included six gold, six silver, and five bronze medals.
Leading the way was star shooter Avani Lekhara, who clinched gold in the women's R2 10m air rifle standing SH1 category with a games record score of 249.6.
The day's events were dominated by track and field, contributing 11 of the 17 medals, including five gold.
The morning commenced with Indian athletes sweeping all three medals in the men's club throw F51 event, where Pranav Soorma took home the gold. Soorma, who overcame a spinal cord injury at a young age, shattered the Asian Para Games record with a throw of 30.01m.
There were only four competitors in the event with Saudi Arabia's Radhi Ali Alharthi finishing last with a throw of 23.77m.
The F51 club throw event is for athletes who have movement affected to a high degree in the trunk, legs and hands. All the competitors compete while seated and rely on their shoulders and arm to generate power.
Despite India's strong performance, they currently hold the fourth spot in the medals tally, trailing hosts China, Iran, and Uzbekistan.
The Asian Para Games showcase the incredible achievements of para-athletes, and the Indian contingent's success on the first day sets a promising tone for the remainder of the competition.
"This gold is very special for me because this is my first medal in the Asian Para Games. This Asian Para Games is part of my preparations for the 2024 Paralympics," Avani said after winning gold.
The other Indian para shooter Mona Agarwal finished sixth in the standings.
Rudransh Khandelwal added a medal in shooting by winning a silver in P4 mixed 50m pistol SH1 event.
Born in Jaipur in November 2001, Avani met with a road accident in 2012 that made her wheelchair-bound ever since.
Inspired by Olympic champion Abhinav Bindra, her shooting career took off in 2015, and she has never looked back.
Avani burst into the limelight with her stupendous show at the 2020 Tokyo Paralympics where she became the first Indian woman to win a gold medal in the Summer Games. There, Avani also won a bronze medal in the 50m rifle 3 positions.
Three Indians also finished 1-2-3 in the men's high jump T63 category but only gold and silver were awarded under Asian Paralympic Committee (APC) rules.
The three Indians were the only competitors in the event and under APC's 'minus one rule', Shailesh Kumar won the gold with an Asian Para Games record jump of 1.82m while Mariyappan Thangavelu (1.80m) took the silver.
Govindbhai Ramsingbhai Padhiyar (1.78m) cannot win a bronze under APC rules.
At least four athletes need to be in the fray to award all the three medals.
"In exceptional case where only three or fewer athletes compete, medal will be awarded following the 'minus-one rule'. For example, if an event is finalised by 2 athletes/teams only, only gold medal will be allocated," according to the APC rule book.
The 23-year-old Kumar had won a silver in the World Para Athletics Championships earlier this year while Thangavelu was fourth. Both have qualified for next year's Paris Paralympics.
Thangavelu had won a gold medal in high jump T42 category in 2016 Rio Paralympics and silver in T63 in Tokyo Paralympics.
In T63 classification, athletes with a single leg above the knee amputation compete with a prosthesis.
Nishad Kumar won India's third gold of the day in men's high jump T47 class as he cleared a height of 2.02m while compatriot Ram Pal took the bronze with an effort of 1.94m.
The T47 classification is meant for athletes with a below elbow or wrist amputation or impairment.
Nishad, a farmer's son in Amb town in Himachal Pradesh's Una district, got his right hand severed by a grass-cutting machine at his family's farm when he was an eight-year-old.
Ankur Dhama and Praveen Kumar clinched a gold each in men's 5000m T11 and high jump T64 events to complete the Indian medal rush.
Ankur clocked 16:37.29 to win the race competed by runners with a near-total visual impairment.
Praveen cleared a games record height of 2.02m to win gold in the event meant for athletes with a leg amputation, who compete with prosthetics in a standing position. Another Indian, Renu Unni took the high jump T64 bronze.
Monu Ghangas won the bronze medal in men's shot put F11 event with an effort of 12.33m.
In women's canoe VL2 event, Prachi Yadav won a silver with a time of 1:03.147.
In judo, Kapil Parmar picked up a silver in men's 60kg J1 event while Kokila won a bronze on women's 48kg J2 class.
In taekwondo, Aruna picked up a bronze medal in women's 47kg K44 event.
In para sports, athletes are classified according to the degree of activity limitation resulting from the impairment. Classification determines which athletes are eligible to compete in a particular event. This is done to ensure fair competition.
(With PTI inputs)