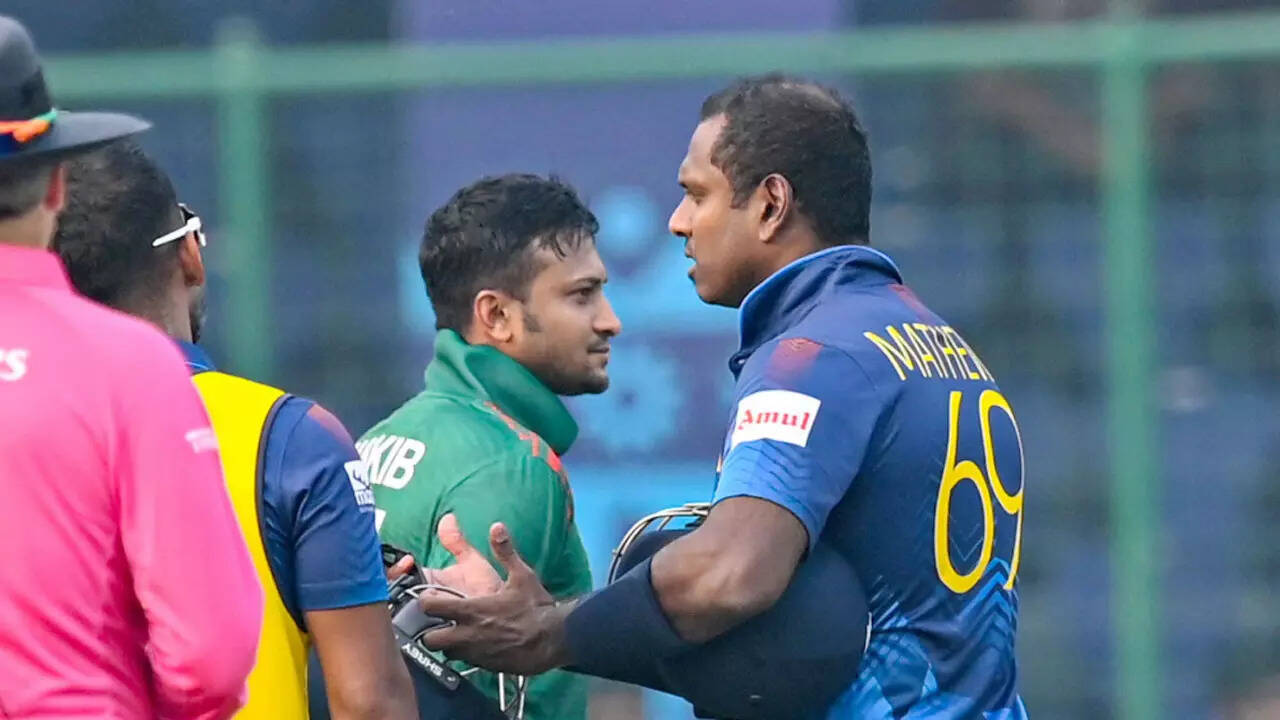 NEW DELHI: It was Bangladesh skipper Shakib Al Hasan's appeal that led to Sri Lanka's Angelo Mathews becoming the first player to be 'timed out' in an international match.
Shakib's on-field act ignited a debate about the spirit of cricket before he delivered a rapid 82 in Bangladesh's three-wicket victory against Sri Lanka, who were eliminated from the tournament on Monday.Speaking on the issue in the post-match presentation, Shakib said he has no idea about actions but he doesn't hesitate to do whatever it takes to ensure his team's victory.
"One of our fielders came to me and said if you appeal now he'll be out. Then I appealed and the umpires asked me if I'm serious or whether I am going to take it back. It's in the laws. I don't know if it's right or wrong. I was at war and I had to take a decision to make sure my team wins," he said.
Shakib also stressed that he will keep seizing such opportunities as long as they fall within the rules of the game.
World Cup 2023: Angelo Mathews becomes first ever player to be timed out in cricket | Sri Lanka vs Bangladesh
"Right or wrong, there will be debates but if it is in the rules I don't mind taking those chances. That (altercation with Mathews) helped, bit more fight, I'm 36 and normally fight doesn't come easily but happy it did today," he added.
Mathews was given 'timed out' after not being ready to face the ball within two minutes of the fall of a wicket.
The incident happened in the 25th over when the 36-year-old walked out to bat after the dismissal of Sadeera Samarawickrama but found that the helmet strap was broken and immediately signalled for a replacement instead of facing the bowler Shakib.