NEW DELHI: Former Indian captain Kapil Dev, who shared the cricket field with the spinner Bishan Singh Bedi, paid his respects to the cricketer, who passed away at the age of 77, and emphasised that Bedi was not only a cricketing legend but also a remarkable human being. Bedi's illustrious career, according to Kapil Dev, was defined by his unwavering character.
Bedi, widely regarded as one of the greatest left-arm spinners in the history of world cricket, passed away in Delhi on Monday, leaving behind an impressive legacy of spin bowling.
Former India spin legend Bishan Singh Bedi passes away
The legendary Indian spinner was celebrated for his graceful and artful bowling action, maintaining impeccable line and length over extended periods, while skillfully adjusting his pace, trajectory, and delivery.
Kapil, who attended Bishan Singh Bedi's last rites at Delhi's Lodhi crematorium, fondly described the late spinner as not only his mentor but as "everything" to him.
"We all have played cricket and we will all leave one day, but very few people come with a character, and those who have a character become successful…This is the biggest loss to Indian cricket, but more than that he was a great human being. He was my captain, my mentor, my everything," Kapil Dev told reporters.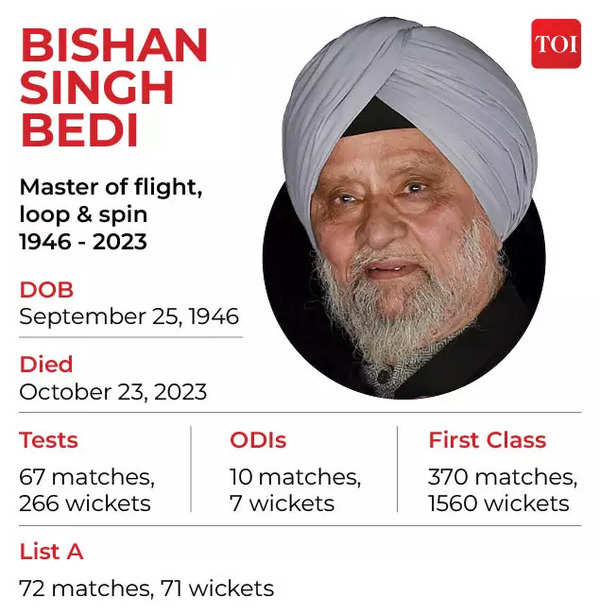 The celebrated left-arm spinner, who formed a much-vaunted spinning quartet along with Erapalli Prasanna, Srinivas Venkataraghavan and Bhagwat Chandrasekhar in his heydays, passed away in Delhi on Monday after a prolonged illness.
The legendary spinner represented India in 67 Tests and 10 ODIs, taking a combined of 273 wickets. Renowned for his profound understanding of the game, Bedi's elegant and rhythmic bowling action, coupled with his ability to generate prodigious spin, and his discipline with the ball earned him tremendous success.
With an astounding 1560 first-class wickets to his credit, Mr Bedi also led India in 22 Tests, with three of the six wins coming on foreign soil. He also featured in India's inaugural ODI, played on July 13, 1974, in Leeds. At the time of his retirement, Bedi held the distinction of being India's highest wicket-taker in Test cricket.
Post-retirement, he briefly served as Manager and was also a national selector. His illustrious cricketing journey was aptly recognised with several accolades, including the prestigious Padma Shri in 1970 and BCCI's CK Nayudu Lifetime Achievement Award in 2004.
BCCI Secretary Jay Shah said the legendary spinner left an indelible mark on the gentlemen's game with his artistry as a spin bowler and his impeccable character.
"Indian Cricket has lost an icon today. Bedi Sir defined an era of cricket and he left an indelible mark on the game with his artistry as a spin bowler and his impeccable character. His steadfast persona and astute insights have had a profound impact on the game as a whole. My thoughts and prayers are with his family and loved ones as they cope with this loss," Jay Shah said in a statement.
(With ANI Inputs)