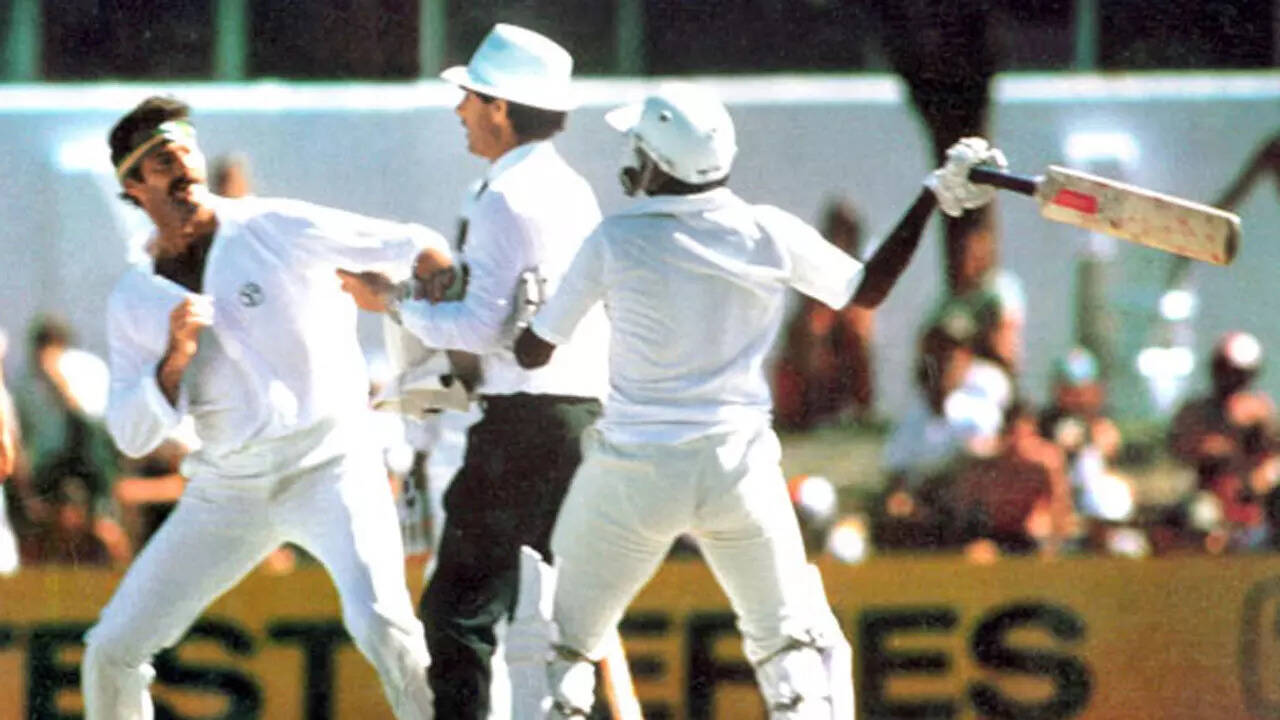 BENGALURU: Five-time champions Australia renew their cricketing rivalry with Pakistan at the Cricket World Cup in Bengaluru on Friday.
AFP Sport takes a look at five memorable performances and moments between the two teams over the years:
Pakistan fast bowler Sarfraz Nawaz single-handedly destroyed Australia's batting with match-winning figures of 9-86 — one wicket was a run-out — to turn a Test match on its head in Melbourne.
Australia were cruising in their chase of 382 to win the match when Sarfraz, who formed a great new-ball partnership with Imran Khan and was one of the earliest to introduce the art of reverse swing, triggered a collapse.
The hosts crashed from 305-3 to 310 all out and Sarfraz's spell on the fourth afternoon read 7 for 1 from 33 balls as Pakistan won by 71 runs.
Australia speedster Dennis Lillee and Pakistan batting great Javed Miandad nearly came to blows during a Test at Perth in one of the ugliest incidents on a cricket field.
Pakistan were in early trouble at 27-2 while chasing 543 for victory when Miandad, captain at the time, came out to bat and during his knock crashed into Lillee while taking a run.
Words were exchanged before Lillee kicked Miandad on the pads to which the captain raised his bat shaping as if to hit the bowler with umpire Tony Crafter standing in between.
Lillee was fined and suspended for two ODI matches but Australian management remained firm that the bowler was provoked.
Asif Mujtaba was no Miandad when it came to star power in his 66 ODIs for Pakistan but will always be remembered for his last-ball six off Steve Waugh in a tied game.
Chasing 229 for victory in a tri-series match in Hobart, Pakistan slipped to 197-7 when Rashid Latif departed but the left-handed Mujtaba kept up the fight with his gutsy batting.
Needing 17 off the final over, Mujtaba hit Waugh to all parts of the ground and with seven required on the last ball the batsman smacked a six to tie the match.
The late Shane Warne had a knack of rising to the occasion and the 1999 World Cup final at Lord's was one such match when the champion leg-spinner ruled with figures of 4-33.
Pakistan won the toss and batted first but the Australian fast bowlers soon had the opposition on the backfoot with early strikes before Warne weaved his magic.
He ran through the Pakistan middle-order including top scorer Ijaz Ahmed bowled for 22 to skittle out Pakistan for 132 in 39 overs.
Australia achieved their target with eight wickets and 29.5 overs to spare for their second World Cup title.
Australia won the 2015 World Cup quarter-final in Adelaide but the match is remembered for a lively spell of bowling by Pakistan speedster Wahab Riaz who tested Shane Watson with pace and bounce.
Riaz, a left-arm quick, rattled Australia with two key strikes in a modest chase of 214 before Watson and Glenn Maxwell took charge.
But Watson had to wade off serious pace challenge from Wahab who bowled bouncer after bouncer at over 150 km/h with one going past the batsman's helmet grill as the bowler followed it up with a sarcastic grin and clap.
Watson survived to take Australia home by six wickets and into the semi-finals en route to another title but the duel remains etched in many a fans mind.